---
What Is The Journey Café?
The Journey Cafe was once an old automotive garage located near the center of the Borough of Hamburg. But starting in 2003, the members of Zion's Church (in the village of Windsor Castle) began totally renovating the building at 3rd. & Pine into a state-of-the-art community center. Completed in 2007, the Journey is now in its thirteenth school year. Since then, we've been primarily serving the youth of the Hamburg area as a place of hope and happiness in the Name of Jesus Christ. The Journey Cafe has become an important part of the fabric of the community of Hamburg. If you'd like more info on the Journey, please contact us at 610-562-8560 (cafe) or 610-562-2300 (our church). Thanks & God bless you!
Hours
We open every school day, except for when Hamburg has an early dismissal. Our weekly after-school program hours are as follows:
Monday & Friday: 3pm-4:30pm
Tuesday, Wednesday & Thursday: 3pm-5:30pm
Youth Groups
Rock-Us

Rock-Us is our Wednesday night youth group that goes from 5:45pm to 8:30pm. It is for both middle-school and high-school students. We provide free pizza and drinks for the kids. Our Youth Praise Band leads us in worship and Dan gives a short sermon. This year, Dan is preaching a sermon series called "The Ultimate Upgrade" where he uses cell-phone analogies to explain what a relationship with God looks like. After the message, we have an optional "small-group time". The small groups get together and discuss Dan's message and what it means to apply it to daily life.
FORGE High-School Youth Group
FORGE meets every Tuesday night from 6pm to 8:30pm. It's designed specifically for highschoolers who want to grow deeper in their faith in God. It's very different from Rock-Us in that FORGE is smaller, less structured, and the discussions are more in-depth.
"No Limits" Bible Study
This is a Bible study led by students, Daylynn Reppert and Amy Kunz for Christian teens who want to dig deeper into living a God-honoring life. We want to "raise the bar" for teenagers in our world, especially Christians. We want to know what it means to live for Christ and hope that the kids in this group will grow closer to each other and to God as well. We meet on Mondays at 6:30. If you're interested or want to know more, just ask Day or Amy.
G.L.O.W.
GLOW stands for Girls Lighting Our World. Every Friday, 4:30pm-6pm, us girls will get together to talk, eat, hang out, play games, and learn something new. We want to create an environment where friendships are formed, where you can get out of your comfort zone, and where you just have a lot of fun. We want you girls to learn what it means to become more confident in yourselves and to learn what it means to be a Woman of God.
NERD HERD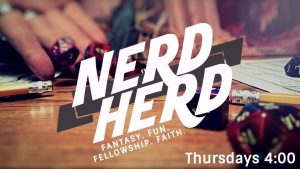 This intrepid group of individuals plays fun & interactive games on Wednesdays from 3:30 to 5:30pm. Led by game-master Kaylum Reppert, this group often plays Crosses & Crypts, our home-made version of D&D. Join them for a great adventure!