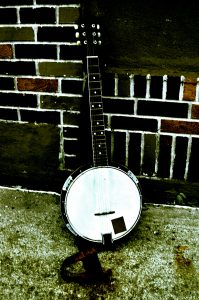 This is my banjo. Like me, it's not normal. This is 6-string banjo. (Traditional bluegrass banjos have 5 strings). My 6-stringer was made this way so guitar players like me could get the sound of a banjo without learning the very different neck & playing style of a real banjo. I affectionately call it my 'cheater banjo' .  Though there may be some like it, this banjo is unique.
We're all different. Each an every human being has a unique DNA sequence, unique finger prints, unique personality, unique gifts & talent, and unique life experiences. Who among us can confidently say, "I'm normal"? You may think it, but the fact is that there is no normal. In fact, you are truly unique. And you were purposefully and masterfully made this way. You are not some cosmic accident or a random collection of biological material. You are not a highly evolved ape. You are not a mistake. No, not at all.
The truth is you are God's masterpiece (Eph 2:10). He loving made in His image (Gen 1:27). He knows you & loves, and He made you for a great purpose (Lk 12:7 ; Jn 3:16; Jer 29:11). So don't try to be normal. Don't try to be someone else. Seek God first in all things (Mt 6:33) & be the unique masterpiece that God you to be.