Upcoming Events:
Rockin' Lock-In
Come on down for our annual New Year's Eve party/sleepover! We have food, games, and lots of fun! We will have a sign-up sheet on the coffee bar. You must have your Permission Form filled out if you wish to attend. So grab your PJ's, a sleeping bag, and a snack to share and be ready to have an awesome time!
Creation Fest 2018
Any campers out there? Come to Creation Fest for a week-long camping trip full of great music, awesome speakers, and amazing fellowship opportunities! June 27th-July 1st. If you're interested, talk to Dan!
Reach Out XI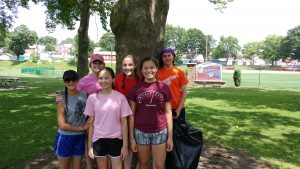 Join us July 8th-13th for our annual mission project in Hamburg. We stay at a local campground and work on service projects in town. Last year we painted park benches, painted fire hydrants, removed graffiti, and a whole lot more. In addition to just manual work, our group also performed random acts of kindness like: handing out free water bottles, hosting a spaghetti dinner for elderly folks, and having a free car wash. We always have a great time and we encourage you to join us! The cost is $100, but if you struggle financially, we will help you in any way we can.