Upcoming Events
Daddy Daughter Dance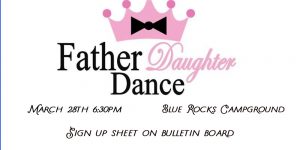 The men's group is hosting a Daddy Daughter dance at Blue Rocks campground! If there are any girls from the after-school program who would like to attend with their fathers, there is a sign-up sheet on the Journey's bulletin board. The event is free. If you are interested, we encourage you to check out the event details on the Journey Cafe Facebook page, or on the Facebook page of Zions Church's men's group, "Driven."
Guys Campout
April 17th-19th. The guys of the Journey will be hosting their second weekend campout of the school year. This time, hopefully it will be warmer! Join them for lots of fun around the campfire, hiking, and creating fun camping memories! All boys in middle and high school are invited. There is a sign-up sheet on the Journey's Events bulletin board. And as always, you need to have a permission form filled out if this is your first event with us this school year.
Reach Out XIII
Every summer, we have a week-long outreach to the town of Hamburg. We stay at the Blue Mountain Olivet camp in the evenings, then during the day, we perform community service acts, such as painting fire hydrants, fixing peoples' porches, cleaning up parks and gardens, and all sorts of other fun projects. All kids from 6th to 12th grade are welcome to attend, and any adults who would like to volunteer for some of the days are DEFINITELY welcome. The cost is still to be determined, but will be announced as soon as possible. As usual, a permission form is needed for all minors who are coming.

*High-schoolers who need their graduation project done: you can use this mission trip and get all of your hours collected in a week!